Birding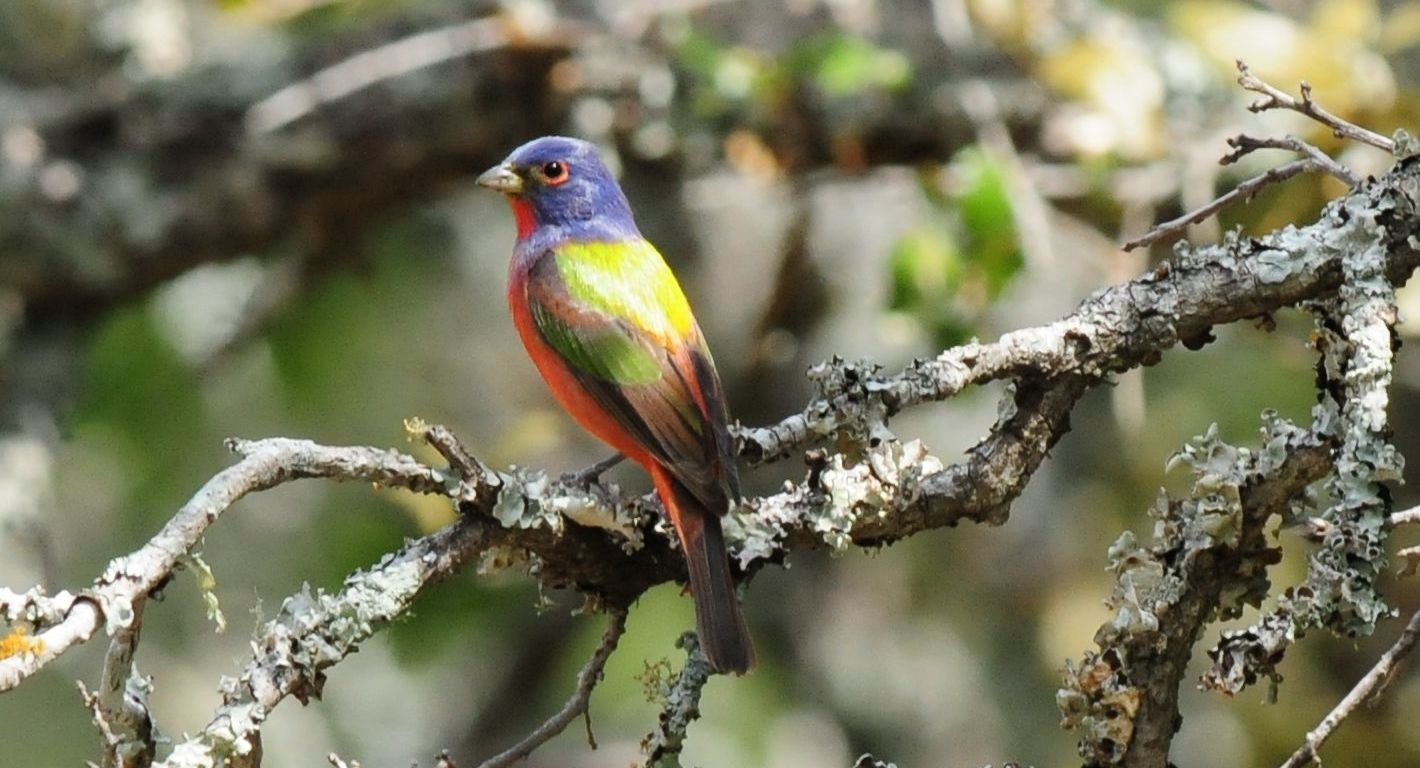 Songbird Meadows Bed & Breakfast is a great place to experience birding. Sit on your private front porch and enjoy the birds watching you as they come to feed. Or take a walk to one of the birding stations around the property. We have several stations set up with feeders and water drips for the birds and comfortable benches for the birders. Each have proven to bring in many bird species for viewing. They also bring in other wildlife as well, including deer, raccoons, jack rabbits, cottontails and skunks!

We also offer a professional photography blind; situated for morning raptor shots and afternoon songbird shots. We strive to keep our acreage as natural and "bird friendly" as possible; we have marked hiking trails to guide you through the natural beauty of the Texas Hill Country. We can also be your guide to assist you in adding as many birds as possible to your life list!
Please notify us if you see something new to add to the list below!
Bluebird, Eastern
Bunting, Indigo
Bunting, Painted
Caracara, Crested
Cardinal, Northern
Catbird, Gray
Chickadee, Carolina
Coot, American
Cowbird, Brown-headed
Crow, American
Cuckoo, Yellow-billed
Dove, Eurasian Collared
Dove, Inca
Dove, Mourning
Dove, White-winged
Finch, House
Finch, Purple
Flicker, Northern
Flycatcher, Ash-throated
Flycatcher, Great Crested
Flycatcher, Scissor-tailed
Goldfinch, American
Goldfinch, Lesser
Grosbeak, Black-headed
Grosbeak, Blue
Hawk, Harris
Hawk, Northern Harrier
Hawk, Red-tailed
Hummingbird, Black-chinned
Hummingbird, Ruby-throated
Hummingbird, Rufous
Jay, Blue
Jay, Western Scrub
Junco, Dark-eyed
Kestrel, American
Kingbird, Eastern
Kingbird, Western
Kinglet, Ruby-crowned
Meadowlark, Eastern
Mockingbird, Northern
Nighthawk, Common
Oriole, Baltimore
Oriole, Hooded
Phoebe, Eastern
Quail, Northern Bobwhite
Raven, Common
Redstart, American
Roadrunner, Greater
Robin, American
Shrike, Loggerhead
Siskin, Pine
Sparrow, Black-chinned
Sparrow, Chipping
Sparrow, English House
Sparrow, Field
Sparrow, Lark
Sparrow, Rufus-crowned
Sparrow, Song
Sparrow, White-crowned
Starling,, European
Swallow, Barn
Tanager, Scarlet
Tanager, Summer
Thrasher, Brown
Thrush, Hermit
Titmouse, Black-crested
Titmouse, Tufted
Towhee, Canyon
Towhee, Spotted
Turkey, Wild
Vireo, Blue-headed
Vireo, White-eyed
Vireo, Yellow-throated
Vulture, Black
Vulture, Turkey
Warbler, Black Throated Green
Warbler, Black & White
Warbler, Common Yellow-throat
Warbler, Magnolia
Warbler, Nashville
Warbler, Orange-crowned
Warbler, Tennessee
Warbler, Wilson's
Warbler, Yellow
Warbler, Yellow-rumped
Waxwing, Cedar
Whistling-Duck, Black-bellied
Woodpecker, Downy
Woodpecker, Golden-fronted
Woodpecker, Ladder-backed
Wren, Bewick's
Wren, Carolina
Wren, House
Hiking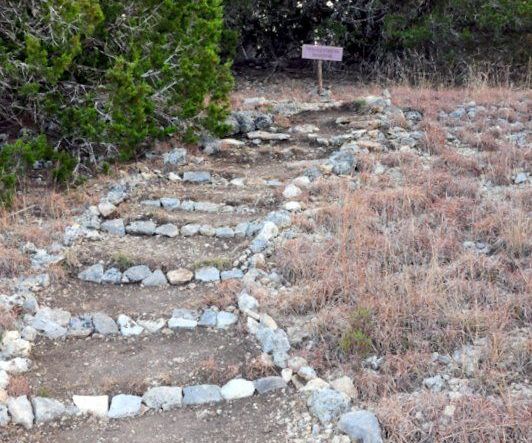 Songbird Meadows Bed & Breakfast features two nature trails. We have two main Nature Trails, one on the north side of the acreage and one on the south side of the acreage.
The southern most trail features the beautiful "Sanctuary Oak" and a peaceful stopping place — "Golden Cheek Clearing."

The northern most trail features another wonderful oak we call the "Bird Nest Tree" (once you see it you will know how it got it's name!) and "Titmouse Ridge" — a gathering place for birds! Along the trail you will notice possible hideaways for other wildlife.
You will find resting and meditation locations on both trails. Benches are available for taking a break to rest up from your walk and have a look at some of the birds attracted to the various bird feeders scattered throughout the property.

While scouting around the property, remember we are sharing the land with many different species of wildlife so we strongly encourage you to stay to the paths.
As you are enjoying the birds and wildlife, please notify us if you see something new to add to our lists!
Our Pond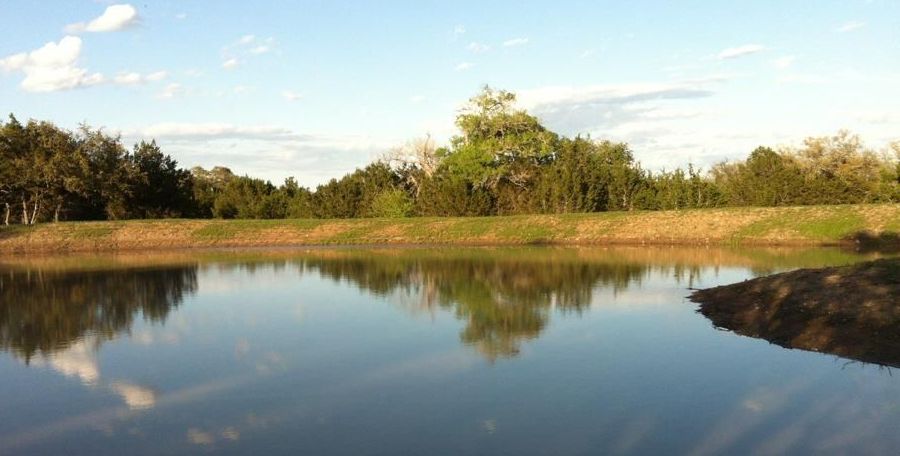 Rain! The rains finally came and we have a pond! It's in the process of setting-in, so each rain fills it and then it settles a bit. So sit for awhile, skip a rock or two and you're quiet enough in the evening you might just see the deer come down for a drink!
(Please know that the pond is full when we have rain! When we're dry, the pond is too.)

Songbird Meadows Bed & Breakfast is primed and waiting to give you a few days away from the hustle and bustle Resting in the hammock under the trees at Songbird Meadows Bed & Breakfast of life to spend some quiet time watching the birds and enjoying nature. The Texas Hill Country bird population has found the water and food we are providing for them. So come to the Texas Hill Country and enjoy our birds and peace and quiet! We have a comfortable bed, a delightful breakfast and even a hammock under the shade of a tree just waiting for you!

Sit on the dam and watch the water as it gently laps the edges, or take the walking path on the southwest side of the pond and spend some time on the small, tree covered peninsula where you are surrounded by water on three sides!
You never know what you might see! Deer, birds and other wildlife by the water and in the beautiful meadow below the pond. In the spring there is an abundance of wildflowers and in the fall beautiful natural grasses.
China Chunkin'
Best Stress-reliever Ever!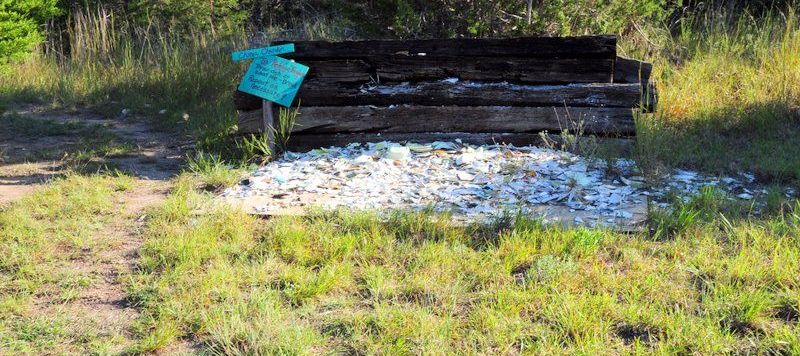 Along the South Trail you'll come across this little area for China Chunkin'. You'll find a little tea cart with a stack of dishes to throw and break. It tends to be a favorite spot for many of our guests!
Prayer Garden
Follow the South Trail til you come to the path going up to the Prayer Garden.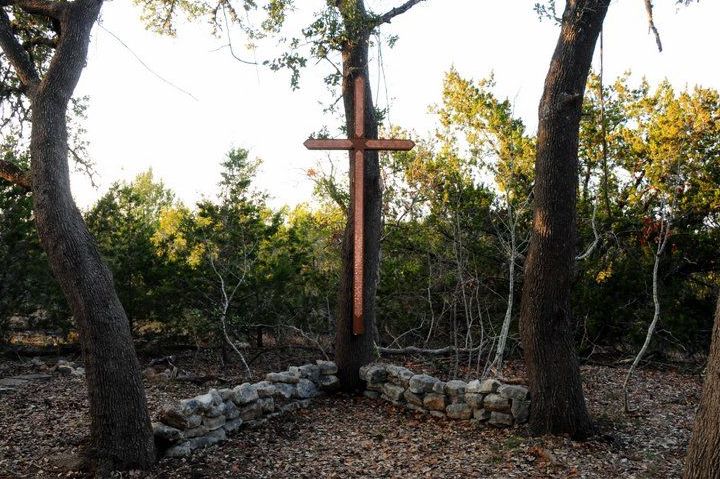 Spend some time. Cast your cares. Be blessed.